A three-day high level Expert Group Meeting (EGM), is enriching and reviewing the draft Africa Bioenergy Framework and Guidelines for validation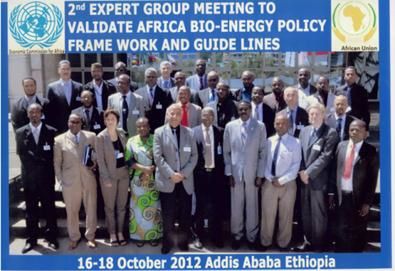 Mr. Philippe Niyongabo, Head of the Energy Division, who represented the AU Commission at the high level EGM, delivered the opening address on behalf of the Commissioner for Infrastructure and Energy, Dr. Elham M. A. Ibrahim . He highlighted that energy is an engine for development of humankind and a vital means for the achievement of the United Nations Millennium Development Goals in general and those on poverty reduction and environmental sustainability in particular. Though its paramount importance, around 30 per cent of the population in Africa and less than 10 per cent of rural population has access to electricity. Even more, the number of people in Africa without access to clean cooking fuels is projected to increase to 720 million by 2030.
In this regards, Philippe stated, bioenergy is an attractive energy alternative considering the escalating and fluctuating costs of fossil fuel, as well as concerns over supply sustainability and environmental footprint. He further elaborated that bioenergy is as well emerging as a suitable renewable energy alternative as its quality constituent matches petroleum-based products, while polluting less and, when managed properly, contributes significantly to rural development.
The high level EGM brought together high-level national delegates, RECs, as well as a number of concerned UN agencies. The review of the draft will enrich the draft policy framework for a validation. The high level EGM will as well outline key elements and processes needed for the short, medium and long-term implementation of the Bioenergy Policy Framework with a view to building a consensus on actions and sequential activities or roadmap needed to develop sustainable bioenergy programmes in Africa.
The Africa Bioenergy Policy Framework is meant to serve an integrated toolkit for developing national and regional bioenergy policies and programmes aimed at promoting the sustainable development of bioenergy in Africa.
Dr. Josué Dioné, Officer-in Charge, United Nations Economic Commission for Africa delivering the ECA welcoming note, stated that this joint workshop reflects the close collaboration between ECA and the AUC Department of Infrastructure and Energy. It builds on a common understanding on the best way to shaping together the road for promoting bioenergy production in Africa in a sustainable manner. "Our collaboration effort has, so far, resulted in the completion of two assessments studies: (1) "Sustainable Bioenergy Policy Framework and Guidelines: Toward Energy Security and Sustainable Livelihoods in Africa"; and (2) "Biofuels Development in Africa: Technology Options and Related Policy and Regulatory Issues". These studies provide a comprehensive assessment of opportunities, challenges and risks of bioenergy development in Africa". These reports were reviewed in an AUC-ECA first joint Expert Group Meeting (EGM), which took place in November 2011, with the aim of exploring the technical and policy options for expanding bioenergy production in Africa. Based on the findings of the two reports and the recommendations of the EGM, ECA and AUC decided to develop a policy framework with a view to providing guidance to RECs and African States to better promote the sustainable development of bioenergy in Africa